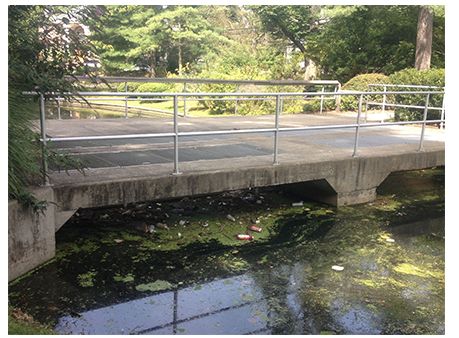 "The prettiest drain in Nassau County"
That's what we've got, according to several county employees. They were talking about the whole area surrounding the pond, of course, and not the murky basin at the foot of Hillside Avenue, east of the bridge, which is not pretty at all. Meant to capture debris before it pollutes Manhasset Bay, you can tell by the number of flip flops, bleach bottles and Styrofoam cups bobbing on the surface, as well as the lightly forested and near-solid masses that clot the water, that this is working—sort of. As part of the overall restoration project in 2001, the basin was state of the art. A good solution then, but time and experience have shown that it doesn't always function properly and it's very difficult to maintain.
The design
The Barbara Johnson Park & Preserve at Baxter's Pond is one of several county properties that were originally designed for drainage purposes and then later turned into public parks. When it rains, water from many parts of Port Washington rushes merrily down the streets and through the storm drains, sweeping everything in its path downstream toward our preserve.

The sedimentation basin/aka catch basin/aka the drain is the key to intercepting road sediments, natural debris such as leaves and branches, and human litter before they reach the pond and Manhasset Bay. Anything that manages to get through the grates under the bridge is supposed to be caught by the riprap (collection of strategically placed stones), keeping it from reaching the bay. The surface debris is supposed to be skimmed regularly (and, in actuality, it needs to be attended to every time it rains), and the entire basin dredged periodically right to its bottom to prevent buildup.
The reality
It rains, the basin fills, debris gathers…and sits there. Sometimes it smells. Often, especially in a heavy downpour, the volume of litter from runoff overwhelms the catch basin and heads for the bay. Nassau County crews are not able to commit the manpower to properly clean and maintain the basin; the structural design and materials used may be insufficient.
The solution
The answer lies in a multistep approach. We are working with Nassau County to devise ways to ameliorate the problem, but it's a challenge. The long term solution may lie in reconstruction. Our long term goal is to raise funds to hire environmental experts and landscape architects to redesign and build a system that will stop the harmful pollutants from pouring into Manhasset Bay.